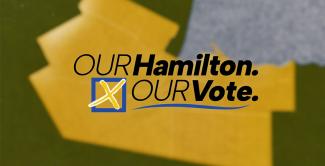 2022 Municipal Election Debates
The "OUR HAMILTON. OUR VOTE." debates will kick off on Tuesday, September 13, featuring the Ward 1 and Ward 2 candidates. Debates will continue for the next two weeks, Tuesday through Friday evenings, finishing with the Ward 15 debate on Friday, September 23.
On Tuesday, September 27 at 7:00 pm, Cable 14 will broadcast live the debate for the Office of Mayor of Hamilton. Candidates for Mayor will be invited to participate either live, or via a pre-recorded statement that will air during the broadcast.
All of the Cable 14 municipal debates will be moderated by Mike Fortune, the host of Cable 14's weekly magazine show, The Hamilton Network. The debates will feature a panel of media representatives from The Hamilton Spectator, CBC Hamilton, CHML Radio, and CHCH News, who will pose questions to the candidates. Hamilton voters will also be given the opportunity to submit their questions directly to Cable 14 in advance of the debates via email to election@cable14.com.
The Cable 14 debates are being produced to ensure that the live broadcasts reach as wide an audience as possible. Cable 14 will be offering everyone the ability to view all of the live debates on TV or over any of their personal devices by streaming from Cable14Now.com, thespec.com and Cable 14's Facebook, YouTube and Twitter social media accounts. These debates will also offer viewers the ability to participate during our multiplatform live broadcast by submitting questions via Twitter @cable14.
"As Hamilton's community channel, we recognize that our Cable 14 Debates are an important and informative event during any election here in Hamilton," stated Cable 14 General Manager, Jonathan Freedman. "We are proud to work closely with our media colleagues at The Hamilton Spectator, CHML Radio, CBC Hamilton and CHCH to ensure we're providing our viewers a multi-platform experience with the most complete and inclusive series of pre-election debates in the City of Hamilton."
---
MUNICIPAL ELECTION LIVE DEBATE SCHEDULE
| | | |
| --- | --- | --- |
| September 13, 2022 | 7:00 pm | Ward 1 |
| September 13, 2022 | 8:30 pm | Ward 2 |
| September 14, 2022 | 7:00 pm | Ward 3 |
| September 14, 2022 | 8:30 pm | Ward 4 |
| September 15, 2022 | 7:00 pm | Ward 5 |
| September 15, 2022 | 9:00 pm | Ward 6 |
| September 16, 2022 | 7:00 pm | Ward 7 |
| September 16, 2022 | 8:30 pm | Ward 8 |
| September 20, 2022 | 7:00 pm | Ward 9 |
| September 20, 2022 | 8:30 pm | Ward 10 |
| September 21, 2022 | 7:00 pm | Ward 11 |
| September 21, 2022 | 8:30 pm | Ward 12 |
| September 22, 2022 | 7:00 pm | Ward 13 |
| September 22, 2022 | 8:30 pm | Ward 14 |
| September 23, 2022 | 7:00 pm | Ward 15 |
| September 27, 2022 | 7:00 pm | Mayoral |
** SCHEDULE SUBJECT TO CHANGE **