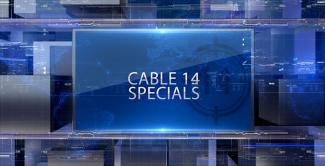 Cable 14 Special Presentations
Cable 14 celebrates Hamilton's diversity with in-depth, coverage of concerts, speaking tours, debates, and other local and civic events. Check local listings for air dates or visit our on-deman portal for video content that is available from any web-connected device.
Upcoming Broadcasts
April 28th at 11am - 2021 Day of Mourning Ceremony - Join the Hamilton and District Labour Council for this special presentation marking this year's Day of Mourning to represent workers lost due to workplace injuries and illnesses. The national theme for this year's event is The Human Cost of COVID-19.
June 3rd at 2:30pm - Code Red: 2021 - Terry Cooke and the Hamilton Community Foundation present their 2021 Code Red report. A group of panelists answers viewers' questions.
Feedback
Do you have feedback on any of our special presentations? Let us know!